The comparatively new 4 Star Hotel Província is located in the central area of the Alentejo District of Portugal. The Hotel is located about 180 kilometres from Lisbon Airport, and a comfortable drive through the Alentejo by motorway giving you an initial sense of Portugal and will add to your enjoyment.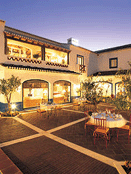 The design of the Hotel reflects the typical late 20th century Alentejo architecture. All of its 23 rooms are air-conditioned and have a room safe, mini-bar, and satellite TV.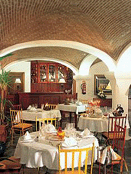 It's 'Santiago" Restaurant provides both local Alentejo favourite dishes together with an international cuisine. There is a outdoor pool and a children's play area, a Fitness Room, and a a pleasant garden area.

This Hotel provides an excellent base from which to explore the fascinating Alentejo and visit the many vineyards to taste the different wines in their own "Adegas".

The area is also very close to the historic walled small town of Monsaraz which can be considered 'a must' to all visitors to Portugal.
Also in the area are castles and the 'Antas' dating back to pre-historic times.